Inside the facility

Map of this facility
1F is front desk/bathroom/lobby/dining room/kitchen
The guest rooms are on the 2nd and 3rd floors.
*Since there is no elevator, only stairs are available.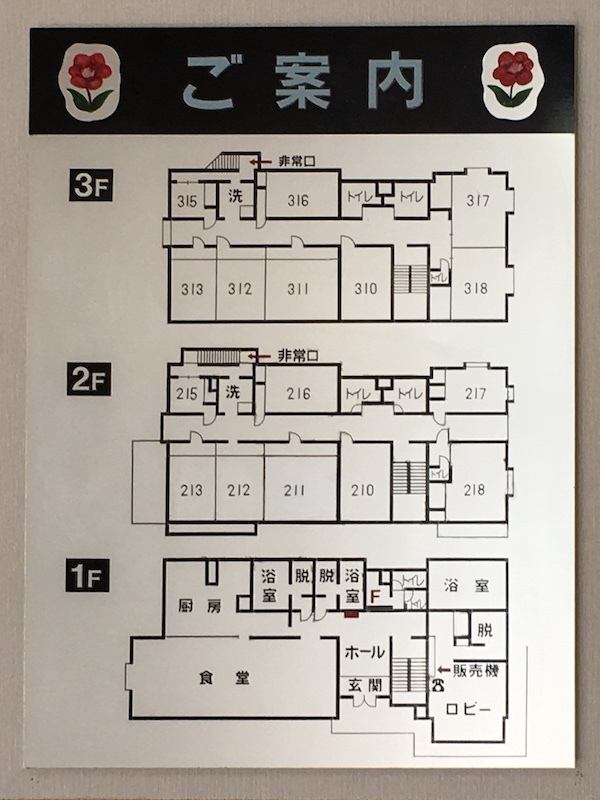 Hotel Facilities
All smoking is prohibited inside this facility.
Smoking space is outdoors.
lobby

You can experience the comfort of a solid wood custom sofa.
After the hot spring, you can relax and relax here.


Front desk

An acrylic plate is installed to prevent the spread of corona.
Please wear a mask, disinfect with alcohol, and measure the temperature.
Other facilities and specifications
Number of rooms

Total number of rooms 13:10 Japanese-style rooms/Banquet hall 1/Multipurpose hall 2


Standard room equipment

Toilet in some guest rooms,With washroom/Air conditioning in all rooms/TV set

Internet related

All rooms available
[Connection method]Wireless LAN(Wifi)
[PC rental]No
[Internet connection]Free

Amenities

Hand towel/Toothbrush and mouthwash/bath towel
(There are no student training camps or competitions, so please come by yourself.)

Facility contents

Tennis (charged) 10 privately owned omni courts

Service & leisure(Including arrangement)

Shogi/Mahjong/Card games(Trump/UNO)

Credit cards that can be used locally

VISA MasterCard AmericanExpress

Standard check-in time

16:00

Standard checkout time

10:00

amenities supplement

Body soap / shampoo / conditioner / face wash in bathroom
In the women's bathroom, we also provide lotion/milky lotion/makeup remover/face wash.

Hot spring tax

Hot spring tax Adult 150 yen will be charged separately.

Cancellation provisions

7 days to 4 days ago:30% of room rate
3 days to 1 day:50% of room rate
On the day of arrival:100% of room rate
Cancellation without any contact:100% of room rate
*If there is a cancellation policy set for each accommodation plan, that will be prioritized.

Other

*Yukata is not available.
Hot spring/bath
Hot Springs

Shirako Onsen

Number of baths

[Open-air bath]Man:0 woman:0 mixed bath:0
[Indoor bath]Man:1 woman:2 mixed bath:0
[sauna]Man:0 woman:0 mixed bath:0

Shirako Onsen

Iodine-containing sodium chloride strong salt cold spring
Source temperature 24.5℃
Since the temperature of the source is low and the salt content is high, it is a water addition, circulation filtration method.